PROJECT SUMMARY
Project Type: Group Project
Role: UX Researcher & Designer
Skills used: Research, Conceptualization, Sketching, Storyboarding, Wireframing, Logic&Task flows, Axure Prototyping, Testing & Evaluation.
Tools: Sketching, Google Drive, Photoshop, Illustrator, Axure.
Process: Literature review, User study/research, sketching, storyboarding, design alternatives, prototyping, testing & evaluation.
About
We developed a workspace for collaborative learning on a multi-touch surface. The prototype was developed as a web application that can run on a multi-touch display. Our initial user studies indicated that writing a report was the most common homework assignment parents and children worked on together. For this reason, our application deploys functionalities needed for compiling a report: searching, sharing, organizing, writing and editing. Input methods for our prototype are fingers or a light pen.
why
Our project aims to empower parents living in westside Atlanta to become more involved in their children's education. Westside Atlanta, just a few blocks away from the Georgia Tech campus, consists of several financially depressed neighborhoods. Based on our initial studies, we figured out that parents are often very eager to participate in their child's education but face many obstacles. However, they face a lot of problems like
Lack of time
Transportation
Unease talking to teachers
Previous studies have shown that parents' involvement can play a critical role in creating learning opportunities for their children. Hence, the need for a well designed platform that facilitates parents' involvement.
objective
Foster a sense of collaboration between child and parent.
Educate parents so they can play a more effective role in helping their kids.
Support visualizing intellectual processes such as marking, sorting, and mapping relationships of information.
Make homework more enjoyable and playful for children.
Replicate conventional methods of compiling a report performed by using poster boards, articles, images
Understanding the users
Good design means designing for specific users and also designing to help these users achieve certain goals and tasks. In order to do this, we had to better understand our users, their tasks, their environment and circumstances. We had to meet them where they were - in their community. Through research, interviews and observations we were able to understand our users better.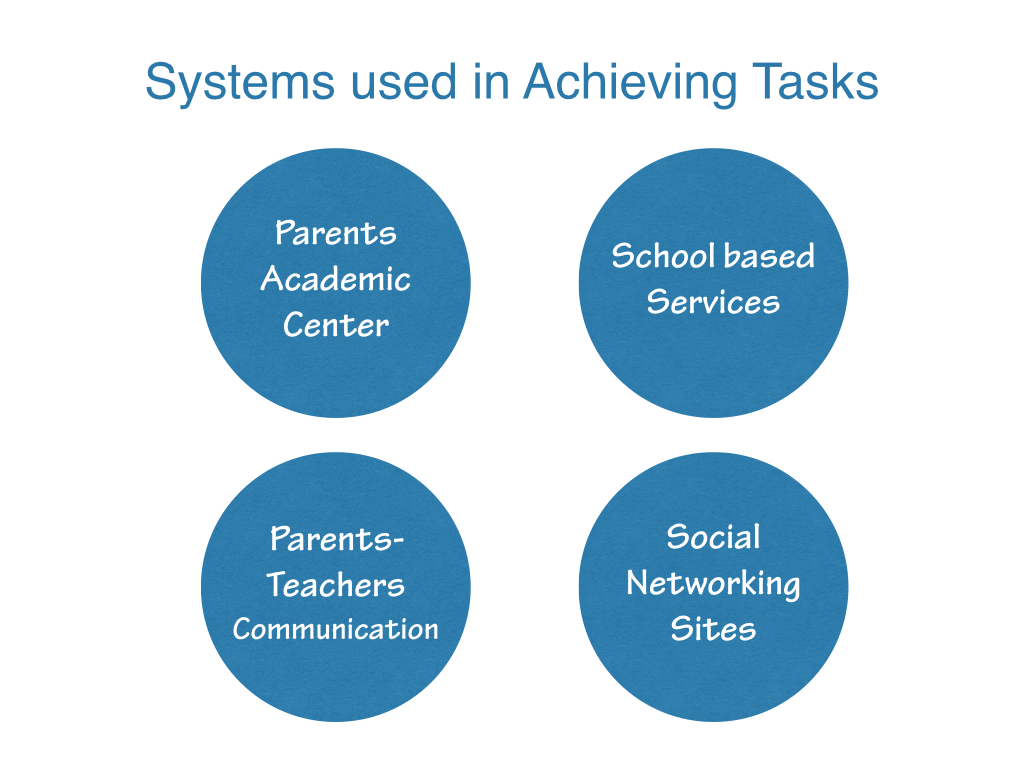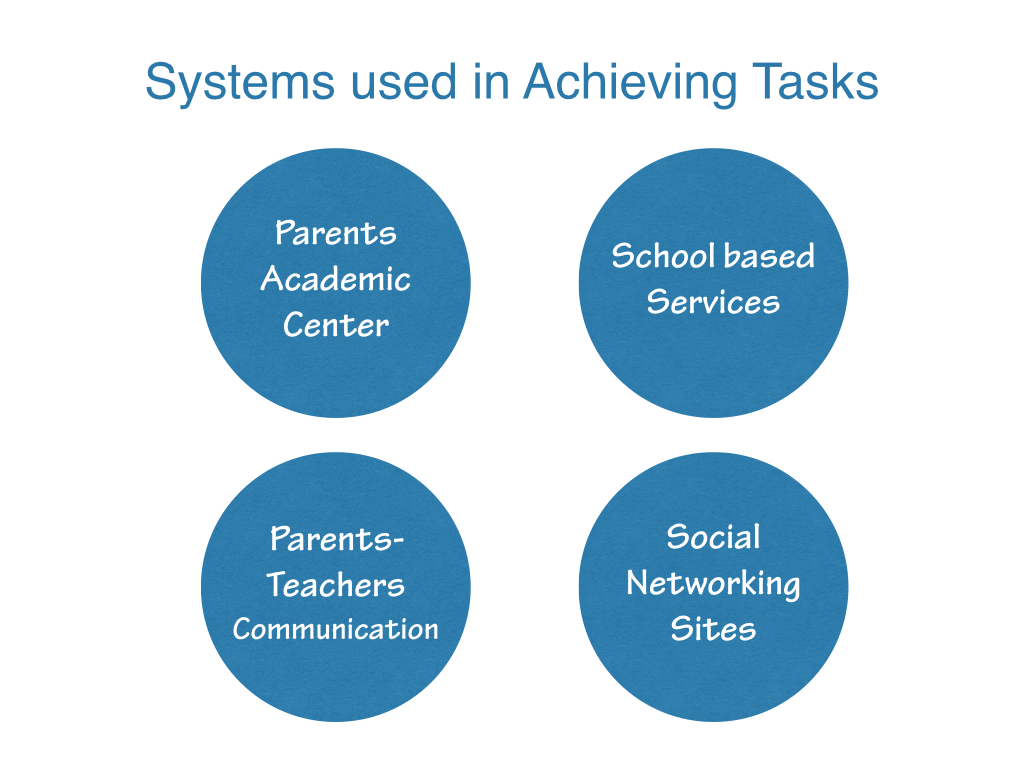 Task Analysis
In trying to better understand the users we were designing for, we had to understand how they accomplished their tasks prior to any design intervention. A breakdown through Hierarchical Task Analysis helped with this.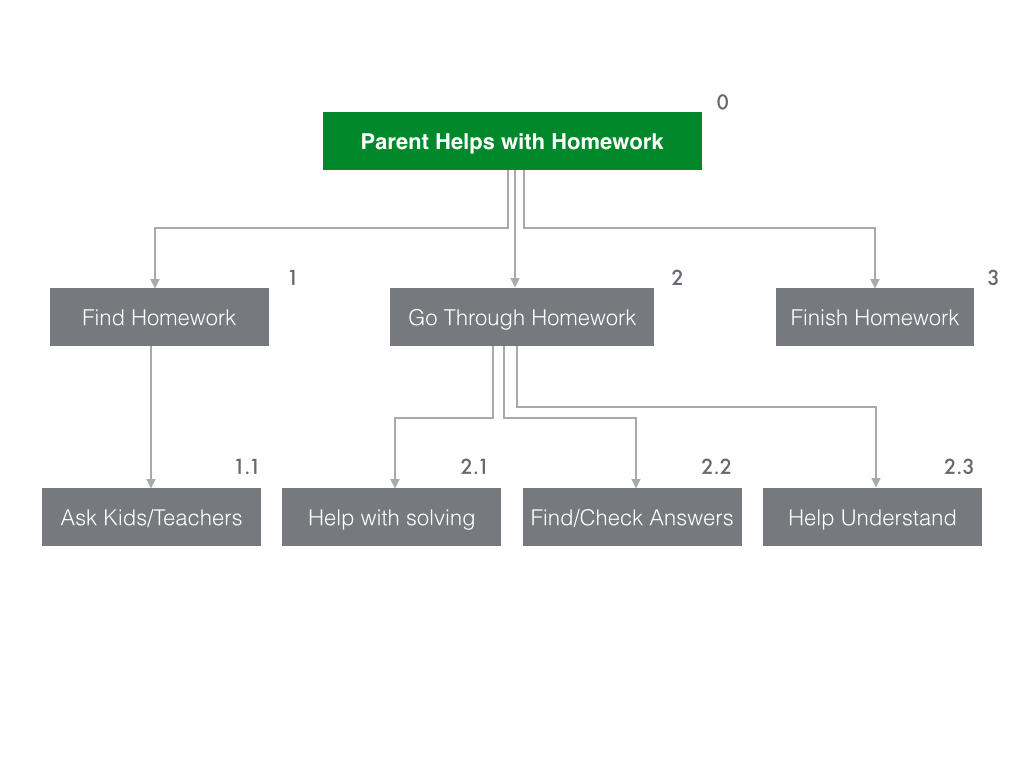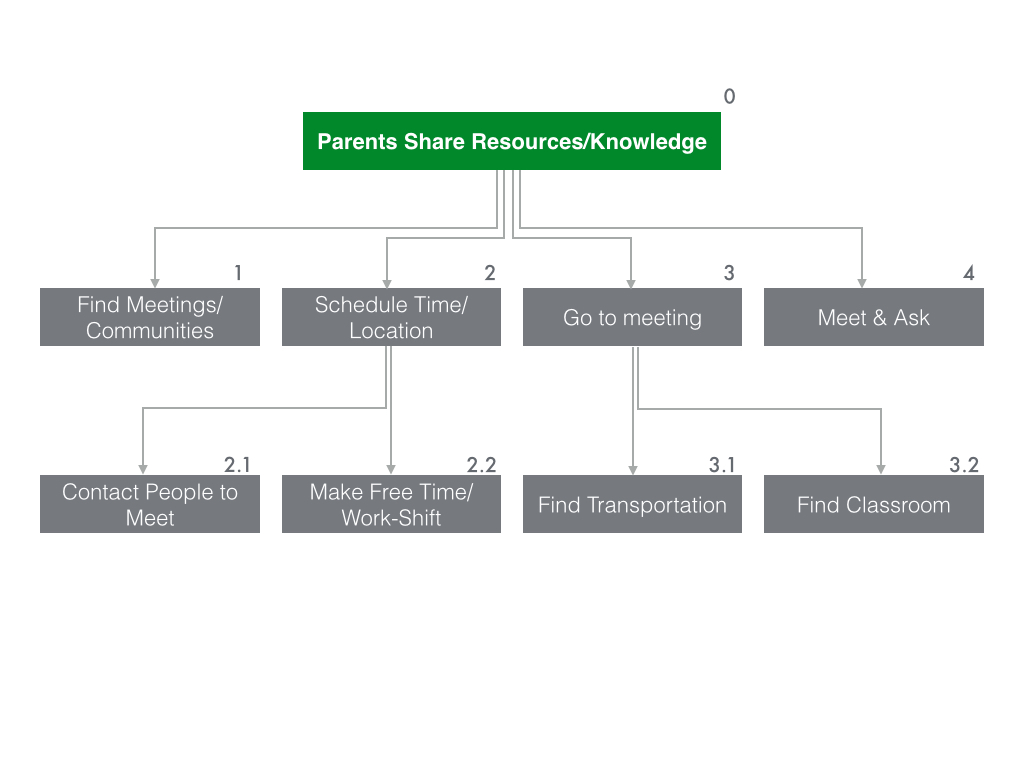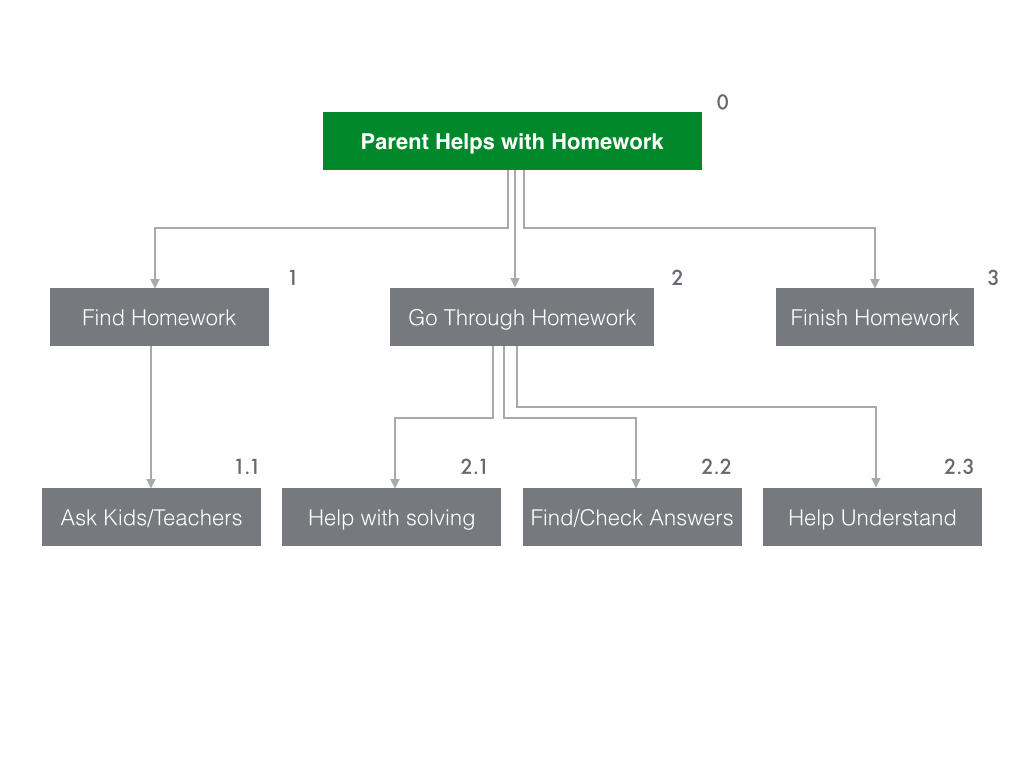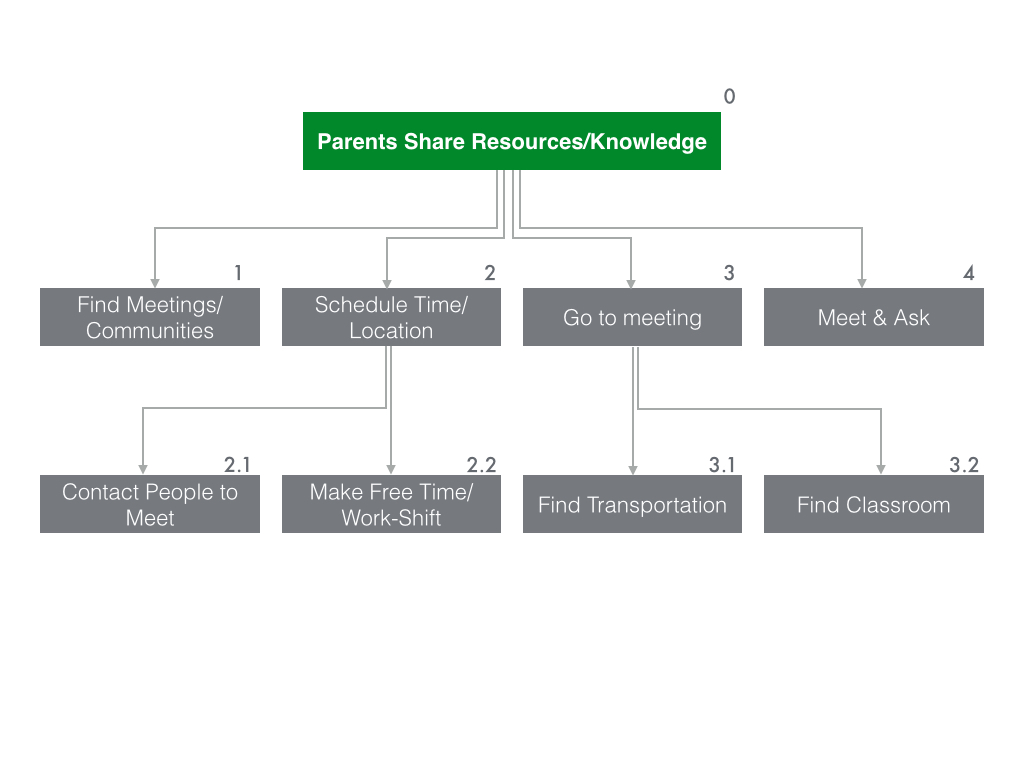 Design Alternatives
Every design has implications that affect users. In proffering design solutions, we were guided by careful user studies. We proposed a Teacher-Student planner for parents, a Mobile app with relevant resources and an online community of parent-to-parent communication.
All three design alternatives came close to solving the problems for our users. However, after some testing and evaluation, we realized they didn't quite fit the bill. A fourth alternative had to be designed.
Final Design
In the final design, we exploited the "dining table" metaphor. We made this choice because its implications directly met the primary needs for which we were designing. Issues of concern were:
Time
Flexibility
Knowledge of Parents
Nature of Parent-Teacher Relationship
Convenience
In the end, we prototyped a web application that can run on a multi-touch display.
wireframes & interaction flow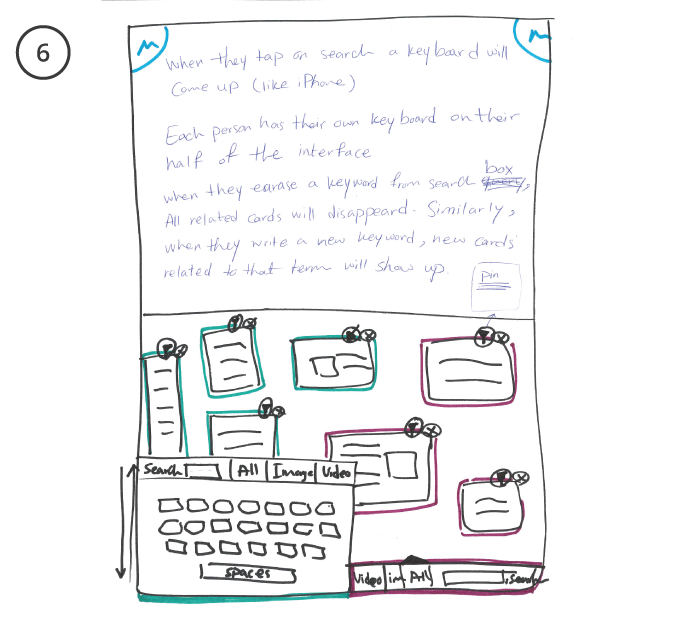 First Prototype
The prototype was made as a web based app projected on a large surface. We mimicked the dining table metaphor by projecting the app on a large screen placed as a table top.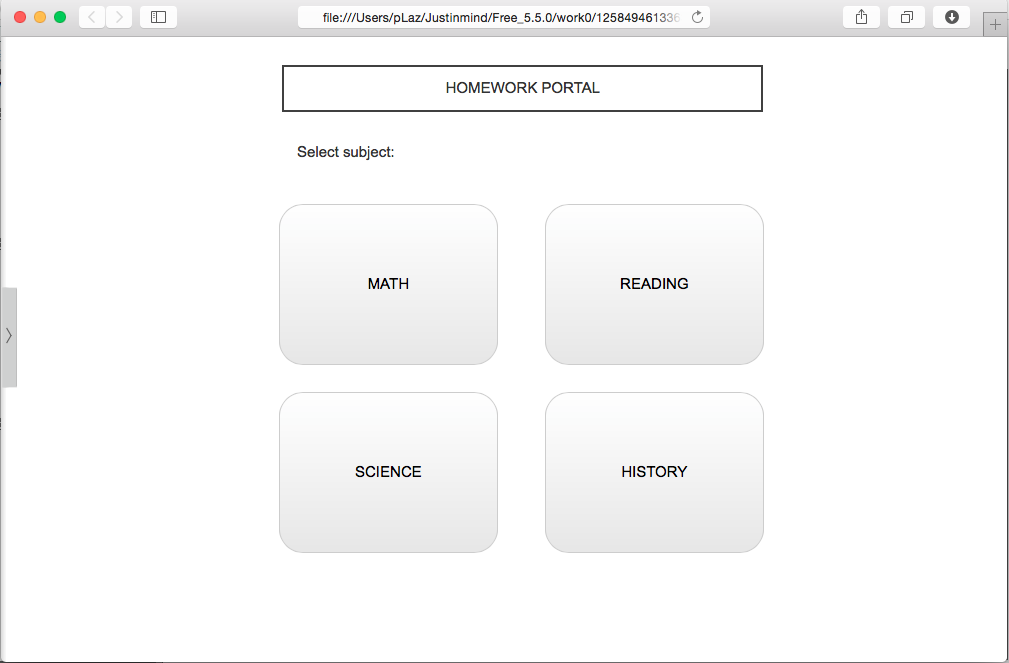 Usability tesing
Overall, the users found the system to be helpful in achieving the task of completing a report. However, they felt there were areas for improvements. More details on this project can be seen in the Project Report.
Task: Complete a history report
Evaluation Technique: Interviews, Observations, Questionnaires and Cognitive Walkthroughs.